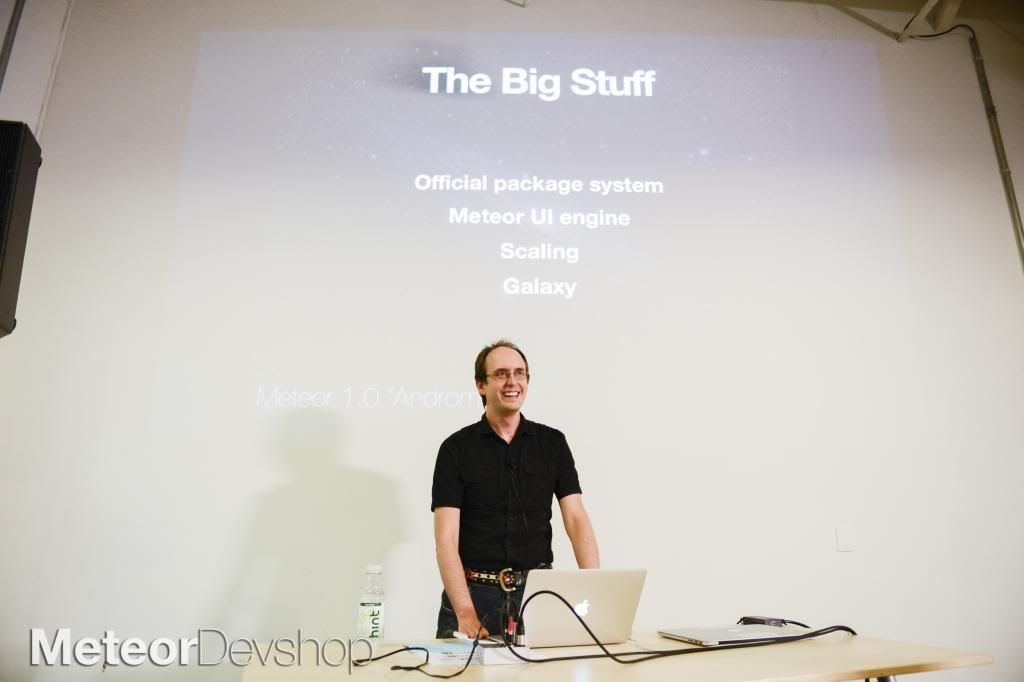 Meteor Devshop 8. Meteor cofounder Geoff Schmidt speaking at Meteor Devshop 8
Last week at Devshop 8, Meteor cofounder Geoff Schmidt gave a talk on "Getting Meteor to 1.0." The goal of Meteor 1.0 is to lock down a small, stable, modular core, which can provide a stable platform for apps, packages, and training materials like books and tutorials. It also means we can recommend using Meteor in production, even for developers who aren't experts on Meteor internals.
We're planning to release Meteor 1.0 in early 2014. The big things left to finish are a package system overhaul, Meteor UI, scaling support, and the alpha release of Galaxy — a complete solution for operating Meteor apps in the cloud. Geoff also covered some of the features that might be included in 1.0 or might be part of a 1.1 or 1.2 release, such as official support for Windows. He enthusiastically encourages all Meteorites to contribute feedback over the next couple weeks, while we finalize the plan for 1.0. You can visit the Meteor-core google group to leave feedback and ask questions.

Check back soon for more highlights from Devshop 8! There was an excellent lineup of tech talks and lightning talks, including speakers who had flown in from Belgium, Australia, and New York to share what their companies have been building with Meteor. Special thanks to the volunteers who helped answer questions for fellow Meteorites during the day: Abigail Watson, Adnan Wahab, Troy Do, James Gill, Mike Risse, Akbar Ahmed, Ronaldo Barbachano, David Weldon, Tom Coleman, Casey Cobb, and Michael Nagle.
Devshop 9 - October 31
Devshop is generally held the last Thursday of each month, so you can look forward to aHalloween Devshop next month on Thursday, October 31. Chris Mather — author of Meteor screencasts at EventedMind — will be speaking on "Understanding the Event Loop, Async and Fibers." In addition, core developer David Greenspan will give a tech talk on "Meteor's New Rendering Model." Those of you who can't make it to Meteor HQ in San Francisco can join the livestream on YouTube:
San Francisco - Thurs, Oct 31st at 7pm
Boston - Thurs, Oct 31st at 10pm
London - Fri, Nov 1st at 3am
Paris - Fri, Nov 1st at 4am
Mumbai - Fri, Nov 1st at 7:30am
Beijing - Fri, Nov 1st at 10am
Tokyo - Fri, Nov 1st at 11am
Melbourne - Fri, Nov 1st at 12pm
Check back soon for the Devshop 8 tech talks and lightning talks!
(Video Editing by BrightSource Productions LLC, Photography by Calista Chandler)